Art Collection
The Bonham, a collectors dream
Richard H. Driehaus was an avid and enthusiastic collector. Little did he realise when he visited a Chicago poster gallery in the mid-1970s and made his first purchase, it was to begin a lifetime of collecting. Today, his collection has expanded to include: Tiffany lamps, windows, chandeliers, fireplace mantles, memorabilia and architectural artifacts in addition to jewellery, furnishings, sculptures, paintings, coins and classic American cars.
Now The Bonham Hotel shares with you some of these treasures
The most iconic piece from Mr Driehaus' collection at The Bonham is the Tiffany floor lamp with a Nasturtium shade (attributed to Clara Driscoll, 1905).
Louis Comfort Tiffany, an American artist and designer, founded Tiffany Studios in 1902. Clara Driscoll designed and oversaw the Women's Glass Cutting Department until she married in 1909. Floral and dragonfly lampshades were the department's most influential creations. Tiffany Studios also created the "Holden" base that stands on six, not the usual four feet.
Located in The Bonham Library you'll find the beautiful Portrait of a Lady Writing, oil on canvas by Jean Raoux.
This French artist became a member of the Academy as a history painter, but soon refused to paint portraits except with the sitter in character. In this particular work for example, with her open book and writing quill, the sitter may represent Calliope, the muse of epic poetry. Raoux's works would go on to become well-known engravings.
Upon entering the hotel, just above reception, you'll find J. & L. Lobmeyr Chandelier, crafted in 1872. Designed originally for candles, it has been recently electrified. Founded in 1823 by brothers Joseph & Louis Lobmeyr, this Viennese glasshouse remains family-owned to this day. It entered a partnership with Thomas Edison and in 1880 co-developed with Edison the world's first electric chandelier.
These are just a fraction of the collection on display. We are open to non-residents so even if you are not staying with us you are more than welcome to pop in for a drink or bite to eat, and while you're here you can have a look at the collection in person.
If you plan on visiting Chicago at some point in the future, be sure to stop by the Richard H. Driehaus Museum, located just steps from Chicago's Magnificent Mile. Art, architecture and design of the Late 19th Century to present are stored within the walls of this beautifully restored Nickerson Mansion.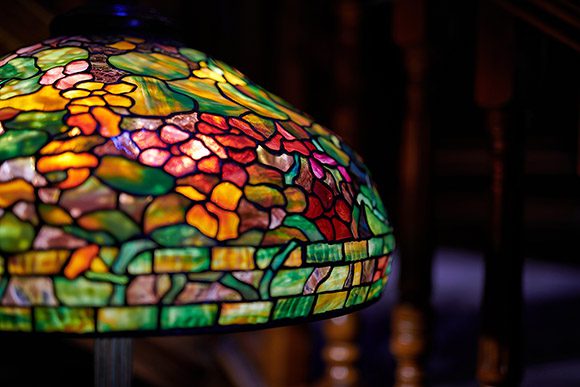 More Bonham Treasures