Scotland's capital city is an ideal destination for luxury shopping and (away from the well-trodden streets of the high-street brands) you'll find a treasure trove of indulgent gift ideas by independent suppliers. To show our support for local Scottish businesses, we have compiled a list of the best brands in Edinburgh for Christmas 2022 …
Edinburgh's local luxury brands
Arran Aromatics
This luxury Scottish Bath, Body & Home fragrance producer has a plethora of gifts to suit even the fussiest of aunties. Choose from their deliciously fragrant range of gift set, handmade soaps, perfumes, and shower gels, or treat the man in your life to something from their extensive haircare offering.
Quality and fragrance are at the heart of everything the Aromatics team do, and they promise customers that every item is hand-crafted and manufactured on their home island of Arran.
As an additional incentive, this festive season, orders over £75 receive a complimentary Hand Care Gift Set.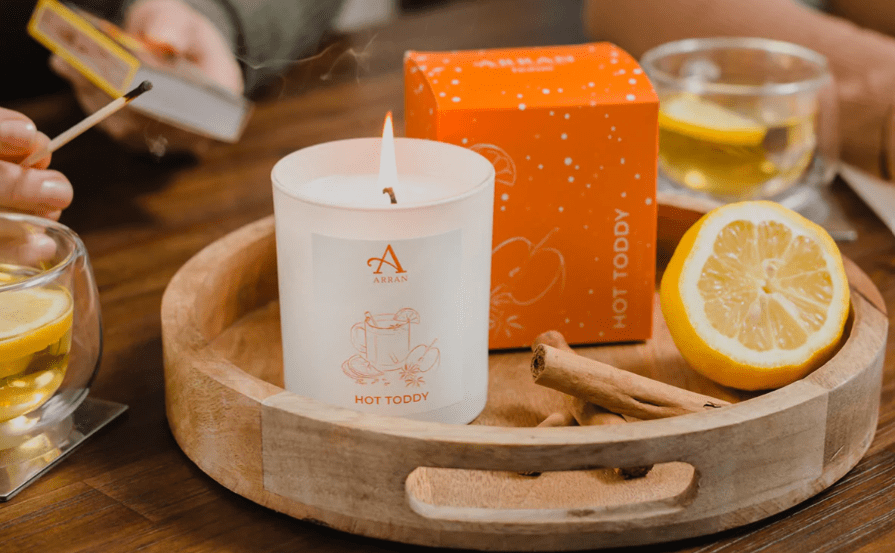 Ishga Skincare
This Scottish organic skincare is made with the finest hand-harvested Hebridean seaweed from the pure clear waters of the west coast of Scotland.
They're best known for their (not so secret) secret ingredient, organic Hebridean seaweed, which boasts lots of skin-loving vitamins and promises remarkable anti-ageing and hydrating properties.
The successful team now has 70 spas across the UK and shoppers can book their loved ones an 'in-store' beauty treatment, or a gift directly from their website. The online shop includes skincare for both men and women and comes packaged from the Isle of Lewis.
Tartan Blanket Co.
The Tartan Blanket Co. was born out of a passion to create something special, and the products are intended for daily use. The brand aims to provide unique and real keepsakes that can be passed down through generations.
In an interesting twist, owners Emma and Fergus note that (after years of working to 'get it right'), they had to acknowledge that, "Scottish mills were not always the most sustainable, transparent and dynamic option". As a result, they partner with a number of overseas mills, including one in India run by a family team – "who uses 100% recycled materials and supports a community of women who hand finish all of our recycled wool blankets, creating much-needed jobs and giving each blanket a personal, unique finish."
Shoppers have lots of cosy winter gifts to choose from: lambswool or cashmere blankets, scarves, gloves, and hats. You'll also find silky hand creams, Scottish shortbread, traditional teas, and gifts for your furry family members.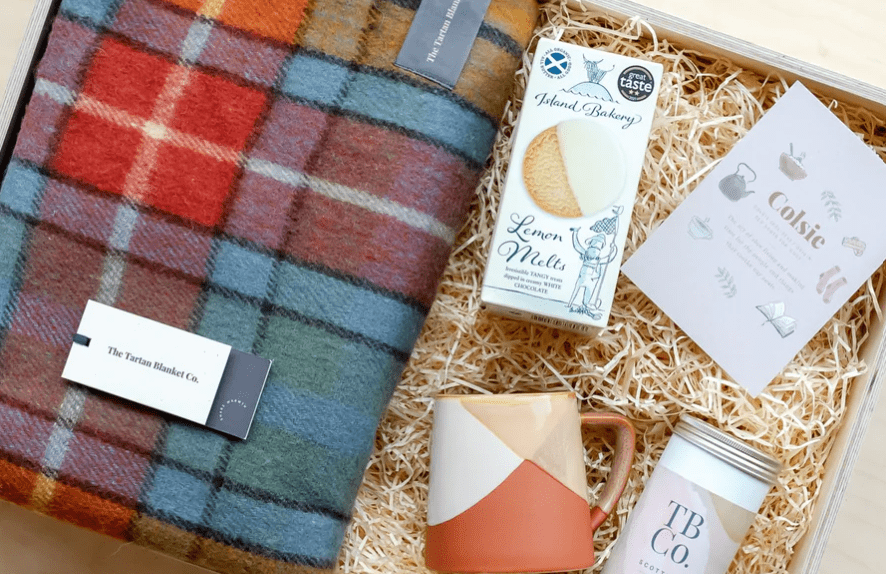 Edward & Irwin Chocolatiers
There is no better time than Christmas to surprise your friends and loved ones with delicious handmade chocolate. Edward & Irwin have been crafting in Scotland for over ten years, producing in small batches and committed to sourcing local ingredients – we just love the sound of their dandelion syrup, produced only an hour away in the lush-green Scottish Borders.
There's a flavour for every kind of chocolate lover; all the obvious boxes are ticked: milk, dark, nutty, fruity, salted, vegan, and gluten-free. However, we recommend you take advantage of their love of local flavours and opt for something a bit more intriguing, for example, Dark Chocolate Shards, with Scots Pine, Juniper & Peat Smoked Salt.
Shop Edward & Irwin Chocolatiers
Searching for further Scottish gift inspiration?
Of course, a monetary voucher from The Bonham would make a splendid gift (and allow your loved one the opportunity to enjoy one of our five-star experiences). We also offer Monetary Vouchers, meaning they can choose to redeem their voucher how they please; perhaps a luxury afternoon tea, a Boozy Snoozy Lunch, or the ultimate extravagance – The Best of the Bonham. 
Our indulgent 'Best of the Bonham' gift entitles two people to a whisky or gin flight on arrival, a Champagne afternoon tea experience, overnight accommodation in a junior suite, a delicious full Scottish breakfast, and late checkout.