The Scottish art scene is booming, and Edinburgh proudly celebrates this with an array of festivals, shops, galleries, exhibitions and museums for art lovers to explore.
Whether you are interested in abstract or modern art, looking to discover new artists or want to experience world-famous paintings by Van Gogh, you can find it in Scotland's capital.
The Bonham Hotel itself prides itself as a collector's dream – home to 35 impressive artwork installations from the collection of Richard H. Driehaus, the late Founder of the Driehaus Museum in Chicago.
Amongst these exquisite treasures is a stunning Tiffany floor lamp with a Nasturtium shade. In reception you will find a spectacular J. & L. Lobmeyr Chandelier which dates back to 1872 and in The Bonham Library you can observe the wonderful Portrait of a Lady Writing by Jean Raoux.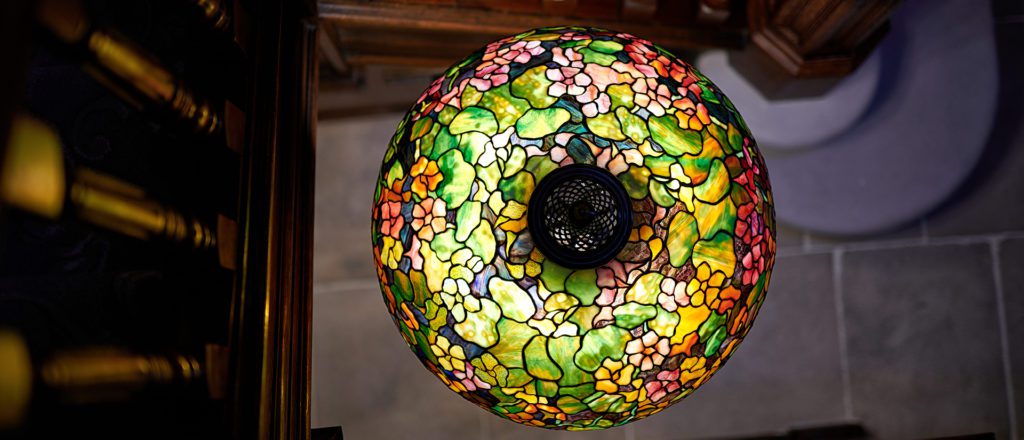 From national galleries to more intimate exhibitions, here is our guide to the best places to see art in Edinburgh
National Museum of Scotland
Perfectly positioned in the city centre, the National Museum of Scotland is one of the UK's top 10 visitor attractions and it's easy to see why. A spectacular day out for the entire family, the museum explores the history of Scotland through art and design, science, technology, cultures and nature. Visit the Art, Design and Fashion galleries to explore art techniques and inspirations, as well as a rare artist's proof by Pablo Picasso dating back to 1954.
Visit National Museum of Scotland to see which exciting exhibitions are currently running.
Scottish National Gallery of Modern Art
Just a short stroll from the city centre, you will find the Scottish National Gallery of Modern Art. Spanning over two impressive buildings – Modern One and Modern Two – the galleries display a variety of works from famous paintings by Salvador Dali to "wacky and wonderful" pieces by up-and-coming artists. Stunning grounds await you outside, inviting you to discover spectacular sculptures such as Eduardo Paolozzi's Master of the Universe.
You will find all the information you need to plan your visit on their website: Scottish National Gallery of Modern Art.
Scottish National Gallery
The Scottish National Gallery in Edinburgh city centre is one of Scotland's top visitor attractions where you can discover the work of historical Scots such as Allan Ramsay alongside the most famous of the Impressionist artists Claude Monet in a relaxing setting. The gallery runs activities and events for the whole family to enjoy.
Visit the Scottish National Gallery Facebook page to find out more.
Scottish National Portrait Gallery
The Scottish National Portrait Gallery was opened in 1889 and is the first purpose-built portrait gallery in the world. It boasts over 30,000 works from the sixteenth century to the present day from historical figures such as Mary Queen of Scots to contemporary portraits of Billy Connolly. Special exhibitions are featured throughout the year.
Visit Scottish National Portrait Gallery to find out more.
Dovecot Studios
A hidden gem in Edinburgh's Old Town, Dovecot Studios first opened in 1912 and is housed in a stunning former Victorian Bath House. This century-old tapestry studio has since cemented itself as a landmark centre for contemporary art, craft and design.
You'll find information on current workshops and tours on the Dovecot Studios Facebook Page.
The Fruitmarket
Ideally located close to Waverley train station, The Fruitmarket offers an intimate encounter with local and world-renowned artists and has collaborated with influential artists from Henri Cartier-Bresson and Louise Bourgeois. The gallery first opened its doors in 1974 and has since grown to offer fascinating exhibitions and events in collaboration with international artists.
Learn more on The Fruitmarket's website.
Ingleby Gallery
Proud to be known as one of the country's leading private galleries, the Ingleby Gallery can be found in the historic Glasite Meeting House in Edinburgh's New Town. Showcasing established and emerging artists from around the world, it is a hidden gem for art lovers.
Visit the Ingleby Gallery website to discover the wonderful exhibitions ready for you to explore.
The Bonham Hotel is ideally situated to access the must-see art locations around the city, and our own art collection is open to residents and members of the public to enjoy. Download our Art Collection brochure to find out more.
Why not stay in one of our boutique rooms? Or join us for a drink or bite to eat in our restaurant and take a look around. We look forward to welcoming you.