Millions of visitors make their way to Edinburgh each year to experience the five fabulous festivals running throughout August.
Scotland's capital is proud to have earned the title of "Festival City", celebrating everything from comedy to literature, art, music and film. Perhaps the most famous are the Edinburgh Military Tattoo and Edinburgh Festival Fringe, but there is also the International Festival, International Book Festival and the Art Festival.
With adequate planning, it may be possible to see an event from each festival in one day – which is great for those looking to make the most of a short stay.
With events starting in just a few weeks, we hope to make planning a little bit easier with this helpful guide, highlighting the most popular events and a few hidden gems…
Edinburgh Festival Fringe – 4th – 28th August
The Edinburgh Festival Fringe is one of the most elaborate celebrations of arts and culture in the world. Proudly hosting events from comedy, dance, circus, children's shows, and much more at locations all over the city.
The festival attracts visitors from across the globe and is the perfect day out for the family, or to socialise with friends until the early hours discovering everything from up-and-coming acts to household names.
This year's highlights include comedian Ed Byrne, impressionist Jon Culshaw and an audience with Sir Cliff Richard. Explore this full programme on the Edinburgh Fringe website.
The Royal Edinburgh Military Tattoo – 4th – 26th August
Perhaps the city's most infamous event is The Royal Edinburgh Military Tattoo, an outdoor music spectacular featuring traditional military acts set against the backdrop of Edinburgh Castle.
The 2023 theme is "Stories" and will welcome over 800 performers from across the world to celebrate music, dance, poetry, spoken word and imagery.
Tickets are on sale now, visit The Royal Edinburgh Military for more information.
Edinburgh International Festival – 5th – 23rd August
This year's Edinburgh International Festival celebrates the transformative power of the arts at almost 300 events spanning dance, music, opera and theatre across the city.
Highlights include residencies from the Budapest Festival Orchestra, the London Symphony Orchestra and the premiere of Thrown, a brand-new play by the National Theatre of Scotland.
The Edinburgh International Film Festival (EIFF) @ Edinburgh International Festival also promises a diverse mix of cinema from local and global filmmakers.
The full programme will be announced in July. Visit Edinburgh International Festival for more information.
Edinburgh International Book Festival – 12th– 28th August
In honour of its 40th anniversary, this year's Edinburgh International Book Festival will unite over 470 authors from 49 countries to celebrate "The Joy of Words".
This is a fantastic chance for avid readers to discover new writers, meet favourite authors and take part in writing workshops.
With an impressive 600 live events, this year's main attraction includes an audience with climate activist Greta Thunberg to discuss her work and The Climate Book.
For families, there is an impressive children's programme for all ages to enjoy such as interactive workshops with leading authors such as The Gruffalo creator Julia Donaldson.
Explore the full programme of events at the Edinburgh International Book Festival website.
Edinburgh Art Festival – 11th – 27th August
Art lovers can relish in the UK's largest festival of visual arts, the Edinburgh Art Festival.
Returning for its 19th year, the 2023 programme showcases artists, thinkers, writers and performers who are deeply connected to feminist and queer practice.
The festival will work with local and international artists to host over 55 exhibitions, events and projects at 35 venues across the city.
One of the highlights this year is the world premiere screening of History of the Present, an opera film co-directed by Maria Fusco and Margaret Salmon. They will also be joining forces with Jupiter Rising to host one of the biggest one-night-only parties in Edinburgh.
Find out more information at the Edinburgh Art Festival website.
Where to stay during the festival – luxury accommodation nearby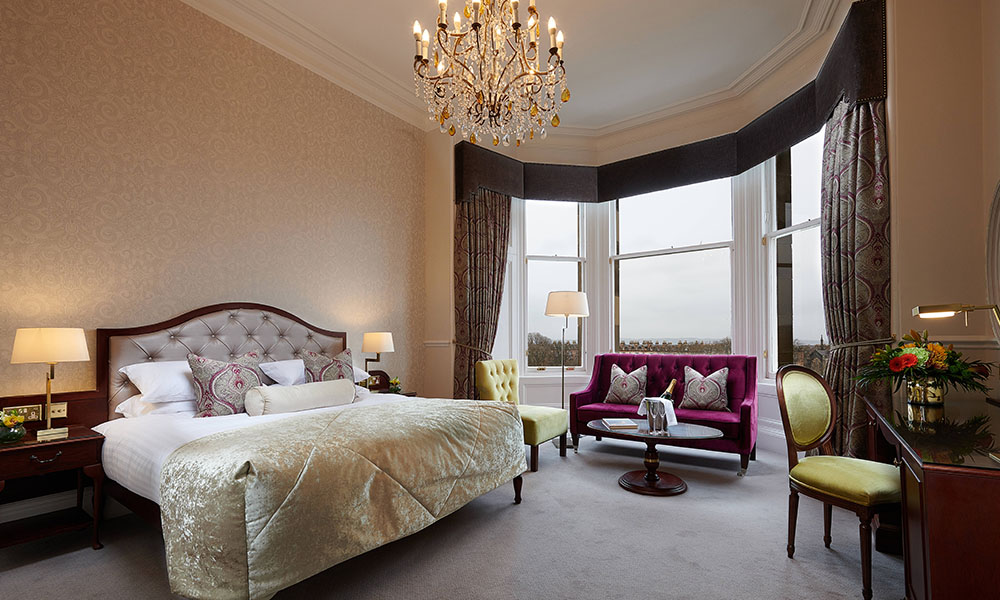 After a busy day discovering everything the festivals have to offer, you will want to return to the comfort of a luxury room close by.
The Bonham Hotel is conveniently located in Edinburgh's West End, just a short walk from Princes Street and ideally situated for easy access to events across the city. The concierge team will also be on hand to arrange taxis, tickets and sightseeing advice for guests.
For the ultimate festival experience, start the day with breakfast in bed and finish it in our restaurant and bar, a sophisticated setting to enjoy a classic Scottish cocktail.
Explore our luxury bedrooms in Edinburgh.