How The Bonham Hotel Is Managing COVID-19
In line with Scottish Government restrictions we are pleased to be re-opening on Wednesday 28th April. Reservations for bedrooms, afternoon tea and our lounge menu can be made now for arrival from this date. Available 7 days a week. All reservations are fully flexible.
Our lunch service will resume from 1st May on Saturday and Sundays. Our a la carte dinner service will resume from 21st May on Friday and Saturdays. Book a table.
If the ongoing COVID-19 pandemic has you convinced that it isn't safe to go on vacation right now, you should know that The Bonham Hotel is prepared to provide guests with the best staycation experience while following all public health guidelines. In fact, the hotel has introduced a variety of new procedures to ensure guest safety during every facet of their stay.
For example, the hotel has redoubled its cleaning and sanitation procedures, so you don't have to worry about germs from your room's previous occupants or your table's previous diners. All linens are sanitized in a high-temperature wash to prevent the spread of viruses, while all toiletries are individually-wrapped for maximal sanitation. Personal Protective Equipment (or PPE) is also available for guests and employees by request. New hand-washing stations have also been installed throughout the premises, enabling guests and employees to practice good hygiene at all times. Furthermore, The Bonham is a contactless hotel that allows all guests to check-in and out without any physical contact with a staff member.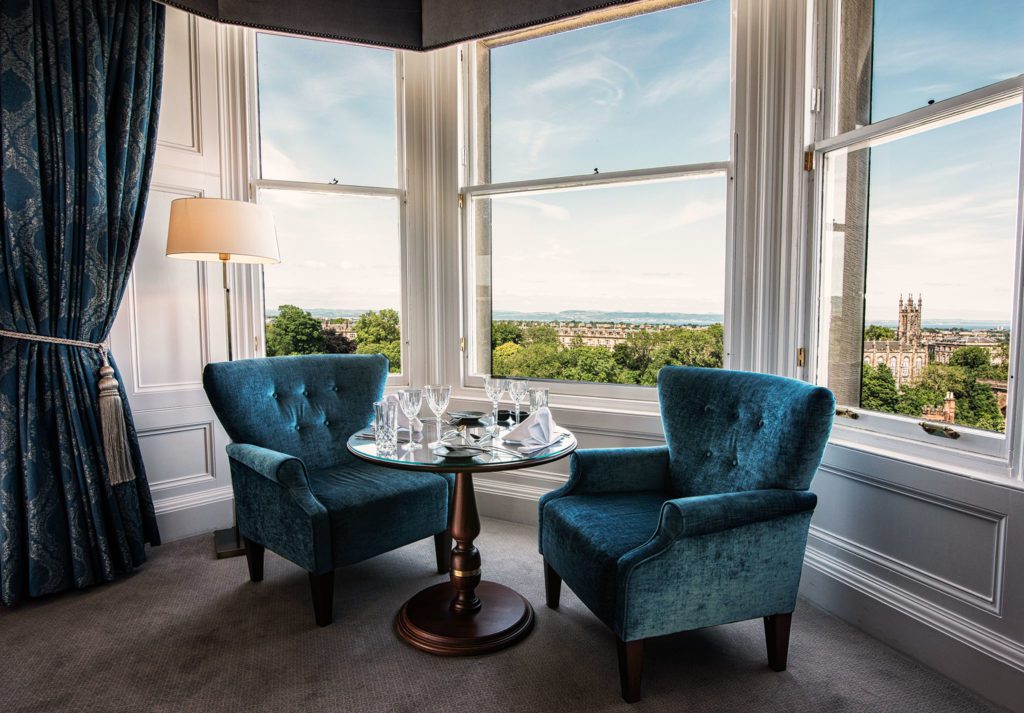 The Bonham Hotel staff also take regular temperature checks and undergo a certified COVID-19 training program, allowing them to provide a great guest experience without violating public health protocols. Any team members experiencing COVID-like symptoms are also paid to stay at home, ensuring that guests don't get sick because an employee was financially-motivated to come to work. Also, social distancing measures have been implemented to make The Bonham a safe hotel. For instance, public areas such as the lobby, dining room, and hotel parking lots are clearly labeled to help visitors and staff maintain appropriate distance at all times. Additionally, guests can enjoy superlative in-room dining if they aren't comfortable mingling with other guests in an indoor restaurant, and picnic experiences at the Drumsheugh Gardens are available weather-permitting. Family deals, including a private dining room, are also available. All our hotel rooms are cleaned on a frequent basis so that each room is spotless for the next visitor with minimal risk of transmission of the infection. Furthermore, The Bonham are still able to host wedding ceremonies and receptions following the current government guidelines with active measures to ensure your safety during the special day.
A lot of businesses are making similar claims, but The Bonham Hotel has established a continuing partnership with Common Sense Compliance Ltd., one of the leaders in cleaning and guest safety protocols, to ensure that they are a leader for hygiene in the hotel industry. Common Sense Compliance is constantly evaluating The Bonham's procedures and performance and making recommendations whenever needed. The Bonham Hotel is a willing participant in the NHS Test and Trace service, meaning that a staff member will take your name and contact info to use for contact tracing purposes. Guest privacy is a top priority, so this information is automatically destroyed after eight weeks and will not be used for any purpose besides NHS contact tracing.
The modern world is a stressful place, and a staycation is a great way to unwind and recompose yourself. The Bonham Hotel is committed to providing the outstanding experience guests expect in a sanitary environment, making it a great choice for all of your staycation needs. Find out how The Bonham are keeping guests safe during the Covid-19 crisis.