Just under a 10-minute walk from The Bonham Hotel, The Water of Leith is the main river that flows through Edinburgh's centre. At 22 miles in total, its waters and pathways wind past a fascinating mix of urban structures, historical talking points, and wildlife nesting spots. As a result, the well-known route has become a popular attraction for Edinburgh visitors to add to their sightseeing itinerary.
Part of the beauty of this trail is that there are plenty of joining points, allowing walkers to explore the long route in segments – with plenty of coffee stops and photo opportunities along the way. Let us show you some of our favourite things to see on Edinburgh's Water of Leith …
How long does it take to walk the Water of Leith Walkway?
It is estimated that the full walkable route of the Water of Leith (from Balerno to Leith, or vice-versa) will take around 7hrs and 15mins – however, this will depend on your walk speed and the amount of time spent stopping at attractions on the route.
The walkway is well signposted and a detailed map is available from the Visitor Centre (24 Lanark Road), or walkers can download a basic pdf map of the route and an Audio Trail.
Where is the Water of Leith Walkway Starting Point?
There are lots of points from which you can enter and the river's paths, but popular entry points include Dean village (just a short walk from The Bonham Hotel), newly redeveloped Saughton Public Park, Colinton, and Bonnington.
Points of interest on The Water of Leith
The statues in the Water of Leith
Arguably one of the most famous things to look out for on The Water of Leith Walkway is the '6 Times' art installation by Anthony Gormley. The intriguing project consists of 6 lifelike figures, positioned throughout different locations down the river. If you're not expecting them, the statues can be quite alarming (especially the 4 that stand in the middle of the flowing waters). The official Water of Leith website provides a helpful map to locate all 6.
St. Bernard's Well
In 1760, locals found a natural spring on the site that is now known as St. Bernard's Well. The spring was thought to have incredible healing powers and people came from afar to benefit from its rumoured ability to improve well-being. In 1789, celebrated Edinburgh landscape painter Alexander Nasymth was commissioned to design the structure that sits across the well today.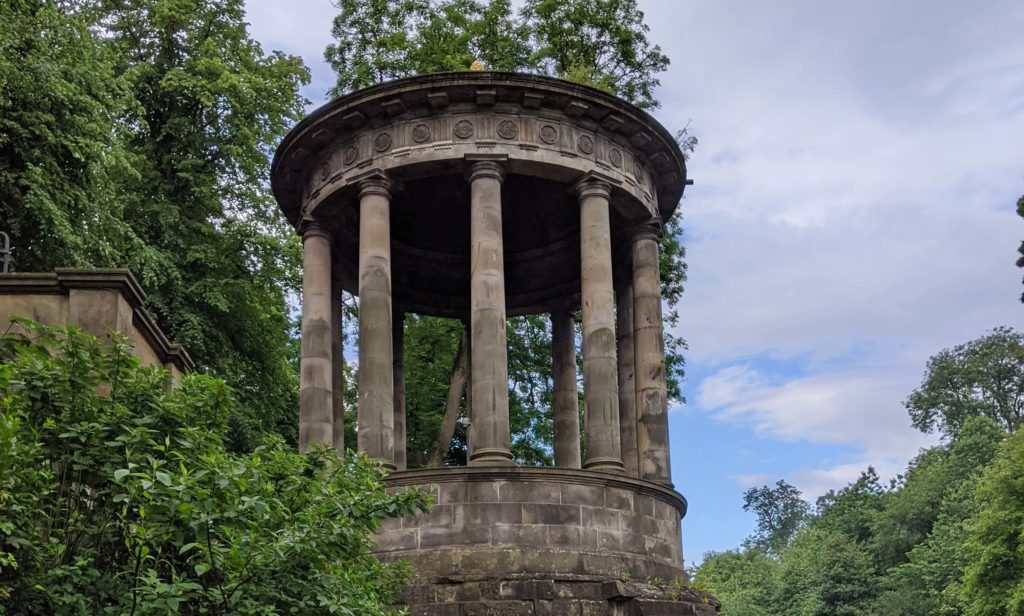 Dean Village
Like something out of a whimsical fairy tale, the turrets and cobbled architecture of marvellous Dean Village never fail to stop visitors in their tracks. A bustling community in the 1800s, this is where milling of water mills took place, and today, visitors can still find the old stone plaques from the bakeries and mills dotted across building walls and arches.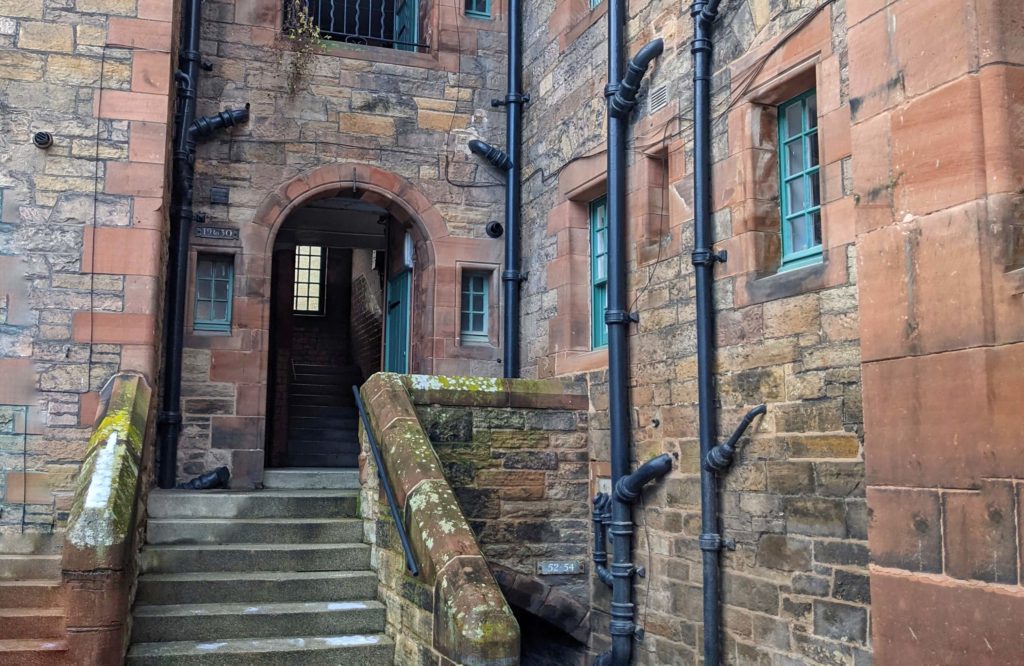 Leith Shores and Victoria Bridge
Seafood lovers should be sure to add a stroll to Leith Shore to their list of walkway stops. The Shore is a historical street, similar in style to that of Copenhagen's famous Nyhavn waterfront. Once the main harbour point for Edinburgh, it is now lined with bars and restaurants boasting local ales and fresh catches.
At the end of The Shore you'll find the Victoria Swing Bridge. Built with iron, timber, and steel in 1874, it was commissioned to provide a better road and railway route for the port, prompted by the completion of Albert Dock in 1869.
Stockbridge
Beautiful Stockbridge is certainly worth the detour off the Water of Leith's main path (the join is well signposted). Its primary street is lined with coffee shops, delis, and Scottish boutiques, and visitors should spend some time exploring its smaller roads in order to catch a glimpse of the iconic old market arches and Instagram sensation Circus Lane.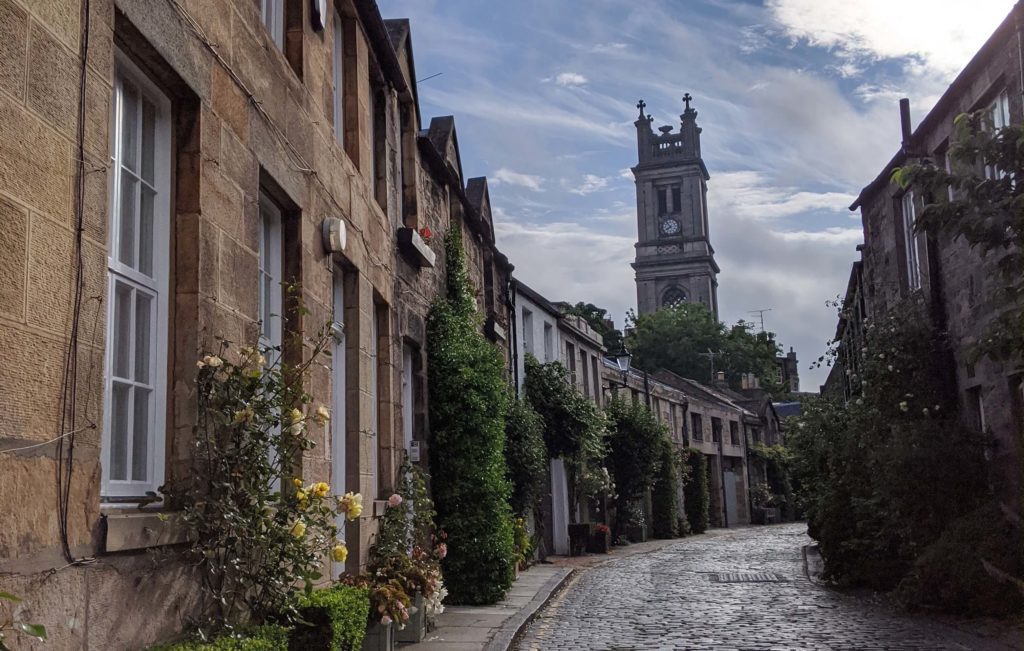 Water of Leith Visitor Centre
This renovated schoolhouse now serves as the main information point for The Water of Leith. The walkway is renowned for its wealth of wildlife, and the centre serves as home point for volunteer conservation projects. You'll also find a free exhibition area, alongside a cosy cafe and gift shop. The centre is accessible to wheelchairs throughout and has been built with families and young children in mind.
Colinton Tunnel
Once an old Victorian railway tunnel, the incredible Colinton Tunnel art project is now Scotland's largest art mural. The once dark and forgotten passageway saw a complete makeover by local residents as they invited artists to create a visual masterpiece themed around Robert Louis Stevenson's poem 'From a Railway Carriage.'
Saughton Park
Following an incredible £7million renovation in 2017, Saughton Park's restoration saw a complete overhaul of its 110-year-old bandstand, alongside the careful creation of new pathways that wind through thousands of rose beds, shrubs, and greenery. The park has become a popular stop for families, offering a children's Exploration Zone, Sensory Area, and Seaside Zone, as well as the cosy Garden Bistro for parents to warm up.
Planning a short break to Edinburgh to explore the city sights and waterways? Conveniently located in the popular West End, The Bonham Hotel allows guests to experience Edinburgh in a luxurious and relaxed setting.
We offer a concierge service who can arrange your taxis to your must-see spots on The Water of Leith, as well as tickets to the popular attraction. Many of our fully refurbished rooms and suites offer inspiring views over Drumsheugh Gardens or across Edinburgh's New Town, with some even looking across pretty Dean Village, mentioned above.