Our helpful team pride themselves on their ability to provide guests with Edinburgh insider recommendations, be it for dining, activities, tours, transfers, or Scottish history. With so many stories to tell, Scotland's capital city has plenty of tours and day trips to choose from (so many that it can sometimes be a little overwhelming). With years of experience behind them, our team have created this handy guide to Edinburgh tours, in the hopes of making your decision making a little easier.
The best Edinburgh underground tours?
Did you know that Edinburgh has its very own underground city? And (what's more), you can explore the old streets and dark dwellings for yourself! We won't give too much away; the following tours will take you on an adventure below the Old Town that you won't find anywhere else!
The Real Mary King's Close
Possibly the most famous of the underground tours, The Real Mary King's Close often needs to be booked in advance to avoid missing out (especially in the summer months). This walk around the 17th century close gives a grisly insight into the way people lived in the (then) overpopulated area.
Mercat Ghost & History Tours
Founded back in 1985 by local history teachers, Mercat Tours are hosted by enthusiastic Storytellers. None of their team are given scripts and every Storyteller is encouraged to bring their own energy to each tale, whether they're taking you across the Old Town for a deep dive into Edinburgh's history, or down into the hidden vaults for rumours of ghosts and misery.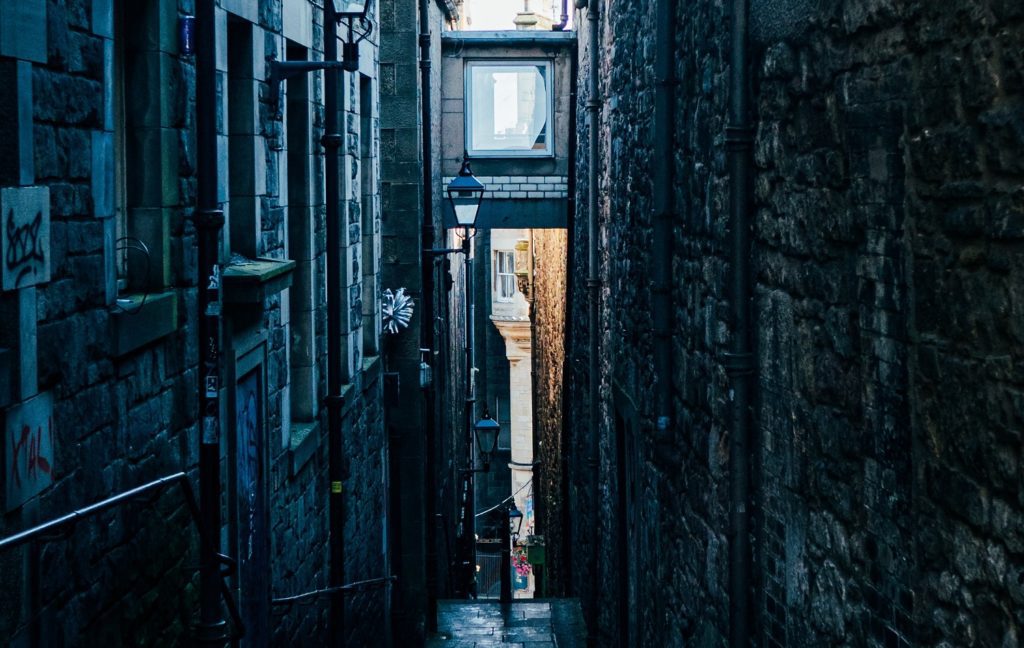 Edinburgh bus tours
City Sightseeing Tour
You can't possibly miss the bright red, open-top busses of the City Sightseeing Tour team as they buzz around the capital. Their hop-on, hop-off system makes them a great option for seeing all the main attractions of Edinburgh. They offer multi-language commentary and a special Horrible Histories commentary for kids, narrated by British children's author, Terry Deary, himself!
The Ghost bus
Taking you past the Grassmarket, Greyfriars Kirk, and Edinburgh Castle (to name just a few), this vintage double-decker and its terrifying conductor help you explore the haunted history of Edinburgh on a 1.15-hour tour. Be prepared for spooky tales, delivered in a comedic manor.
3 Bridges Tour
Want to head a little further afield without heading to the Highlands? Explore the outskirts of Edinburgh with the picturesque 3 Bridges Bus and Boat Tour. You'll join the tour in the heart of city and head to the picturesque town of Queensferry, followed by a boat cruise on the Firth of Forth to see the famous road and rail bridges.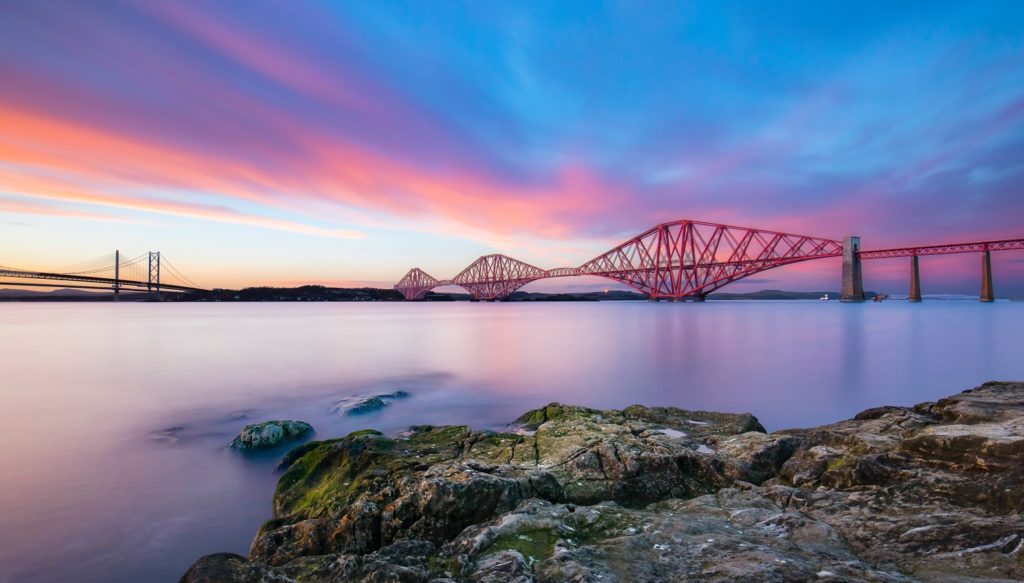 Edinburgh Walking Tours
Wee walking tours
What could be better than a walking tour with a delightful Golden Retriever as your guide? Sami is a former university history professor with extensive tour experience. He is sometimes assisted by Sawyer, his 4-legged companion, who brings joy to visitors and residents of Edinburgh whenever he is out on the town. Sawyer has become a local celebrity in his own right (look out for his purple tour jacket).
Edinburgh Tour Guides
An Edinburgh-based, family run company who run tours in the mornings, afternoons, and evenings. To help decide what's right for you, they offer wonderful virtual tours on their website to inspire you before your trip. Their tours include visits to Old Edinburgh, Georgian Edinburgh, and the Royal Mile.
Edinburgh Free Walking Tour
You'll find lots of free walking tour guides on the Royal Mile, all with slightly different routes, stories, and languages on offer. City Explorers host a daily tour that starts at 11am and lasts 2 hours, offering an interactive and informative stroll around the city's main sights.
The Potter Trail
Harry Potter fans will be delighted to learn that they can grab their wands and head out on foot to discover the magical locations that inspired characters and scenes from the famous wizard series. The tours are free, but (as with the City Explorer tour), guides will ask for a donation at the end of the tour.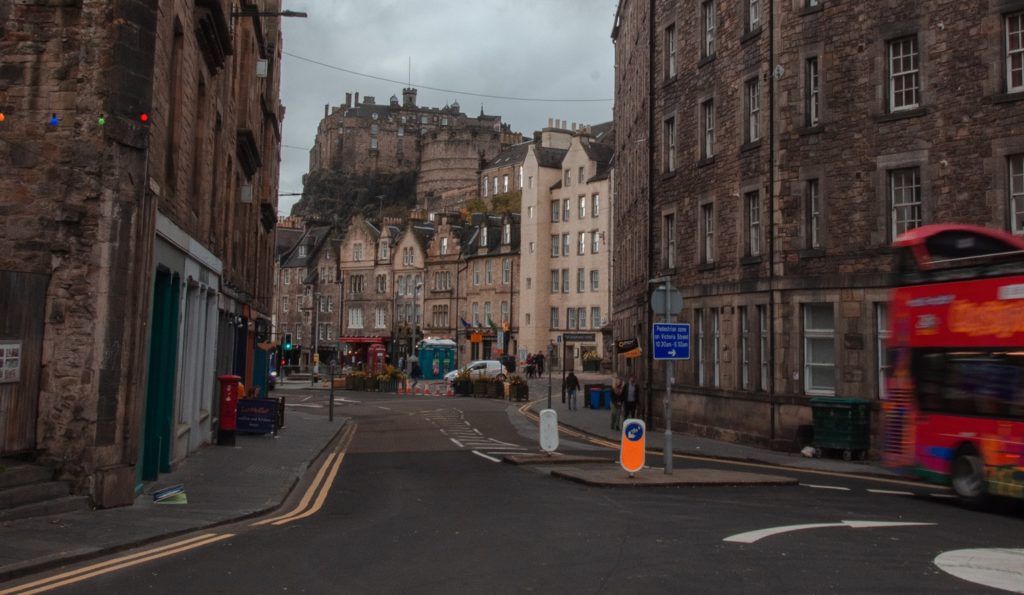 What are the best tours from Edinburgh?
Rabbie's Tours
For day trip outside of Edinburgh and across Scotland, we recommend Rabbie's Tours. The team cover everything from nearby trips to Rosslyn Chapel (made increasingly famous by The Da Vinci Code) to Loch Ness, Glencoe, and the Highlands beyond. Trips are made on 16-seat mini-coaches and aim to support local communities, all whilst delivering stories by friendly local guides.
And finally, we're often asked … "How many days are enough for Edinburgh?"
If you're a first-time visitor to the city, we would recommend that guests give themselves 2-3 days to explore and include the main tourist attractions of the capital. Edinburgh is small enough that most of it can be enjoyed on foot, but we delight in the convenience that the city bus tours provide for those with mobility difficulties (or those short on time).
Need help with booking and tour reservations? Let us take the work out of your visit – our friendly concierge team are always happy to assist. Do not hesitate to get in touch with us and we will gladly make all the arrangements.